House prices in Vancouver, Victoria, Nanaimo expected to jump this fall
Synergy Mortgage
NANAIMO (NEWS 1130) — While temperatures are expected to cool in the coming months, home prices in B.C. will not, according to the new Fall Housing Market outlook report by RE/MAX.
RE/MAX projects housing prices will rise by two to five per cent through the end of 2021 in Vancouver.
However, it is not the most expensive area. The largest jump is expected to be for homes sold in two cities on Vancouver Island: Nanaimo (nine per cent) and Victoria (five per cent.)
"When comparing activity year-over-year (YoY) average sale prices across single-detached homes, condos and townhomes, British Columbia's Nanaimo, Victoria and Vancouver experienced significant price growth, at 23 per cent, 19.1 per cent and 16.4 per cent, respectively," the report reads about what we have seen so far this year.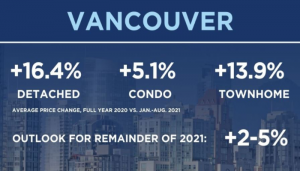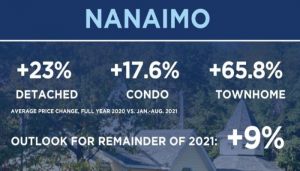 Outside of Nanaimo, condo sales have relatively cooled across the board, and the interest in detached homes has remained high in places like Vancouver and Kelowna.
RE/MAX says that is due to young families driving the demand all across the country.
It's a trend that has come as many switched from commuting to work, to working from home, and are now seeking properties outside the urban core as a result.
Areas within the Fraser Valley, like Langley, Abbotsford, and Mission, have seen a boom in interest from buyers during the pandemic, and it is expected to only continue through to 2022.
Those areas saw bidding wars  in the spring, and although the housing market cooled slightly by summer, lack of supply has remained a source of frustration for the industry.
Nationally, RE/MAX predicts the fall market activity could see sale prices jump by five per cent.
"This is particularly relevant given the Canadian housing markets is often a good indicator of economic activity in the country, and with the Bank of Canada forecasting economic growth of 4.5 per cent in 2022, a strong fall housing market is a good sign that things may be starting to return to a more natural rhythm," RE/MAX said.
ABOUT SYNERGY MORTGAGE
Since 1997, the Synergy Mortgage Team has helped British Columbia homebuyers get the best mortgage rates and terms through our established network of lender partners. In fact, we make it our business to save homebuyers time and money by providing unbiased, professional advice along with highly-personalized mortgage solutions. 
With your free consultation and single application you will be pre-qualified!
Contact us: 
tel:  604.269.9419 
email: Team@SynergyMortgage.ca
www.SynergyMortgage.ca