Renderings of the massive redevelopment of Vancouver's Molson brewery
Synergy Mortgage
[Daily Hive – October 28, 2020]
Daily Hive Urbanized provided the first glimpse of Concord Pacific's proposed redevelopment plans of the Molson Coors brewery in Vancouver in December 2019.
And now, additional details and renderings show the true breadth of the massive mixed-use redevelopment of the 7.6-acre industrial property, located at the south end of the Burrard Street Bridge.
The developer intends to build a redevelopment with a total floor area of 1.8 million sq ft, including 300,000 sq ft of office space with high ceilings, ground-level retail, restaurant, and showroom spaces, and 3,000 homes within towers between 15 and 25 storeys in height.
The towers are interconnected by a multi-storey podium and multi-storey rooftop sky bridge, but the redevelopment gains its name —Quantum Park  — from its two large glass-covered atriums, which are inspired by the shape of wormholes in quantum theory.
Before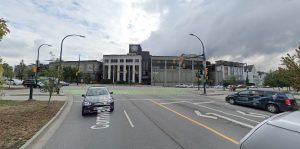 After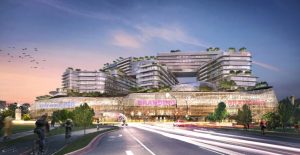 This inspiration leads to the form and funnel design of the glass roof spanning between the podium structures, creating an expansive covered public space. The building fronting Burrard Street is organized around these covered atrium, while the overall complex revolves around a large central plaza.
The atriums also feature green walls, and the funnel-shaped glass roofs provide the natural ability to collect rainwater for reuse in landscaping irrigation.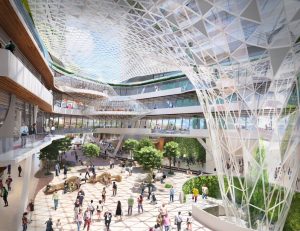 "The two atriums represent each end of a wormhole and are the focal point of the building, where natural forces bind with technological excellence," reads a marketing brochure.
"Glass structures above are designed to harness natural light, rain and air, providing bright and stimulating multi-level workspaces within a natural environment."
On the rooftops, Quantum Park will have a total of three acres of green roofs, making it the largest green roof of an office complex in Western Canada. Sphere-like glass pavilions on the roof provide an enhanced functional amenity space on the rooftop.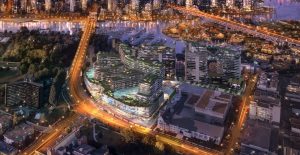 Other offerings include a health club, co-working spaces, electric-battery vehicle charging for all parking stalls, and an automated touch-less car washing facility.
"Building a successful and interactive community that fosters sustainable growth is at the core of Quantum Park. Both inclusive and vibrant, Quantum Park is a habitat for everyone to work and live organically," reads a marketing brochure.
"The multi-use campus presents a community within a community: green space, offices, retail, health, fitness, and entertainment. Thoughtfully curated retail operators will complement the lifestyle of a modern-day professional. With amenities available on location and on-demand, the experience at Quantum Park will be of seamless convenience and aspirational living."
The brochure notes the design takes cues from vibrant urban destinations such as Shibuya in Tokyo and Times Square in New York City. The redevelopment's 700-ft-long podium facade along Burrard Street will have signage branding opportunities for the commercial tenants.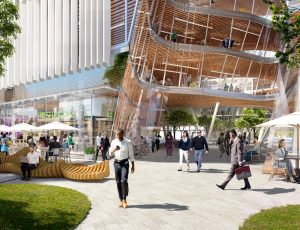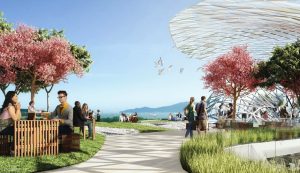 With all that said, it should be noted that this proposal is currently in its pre-application stage; no formal application has been submitted to the municipal government, and the site's switch from traditional industrial to comprehensive, non-industrial uses also requires approval from Metro Vancouver Regional District.
The proposal's significant office component is intended to substitute the loss of employment space from the existing industrial uses, although the former brewery only employed no more than up to 200 people over the past decade before its closure. In 2016, Concord Pacific acquired the property from Molson Coors, which recently completed a new and larger replacement plant serving the Western Canada market in Chilliwack.
This redevelopment concept was also created before the revelation and approval of Senakw,  located immediately to the north, in late 2019. Nearly a year ago, members of the Squamish First Nation approved the redevelopment of their 11.7-acre Kitsilano reserve consisting of 6000 homes within 11 towers up to 56 storeys in height.
Senakw and Quantum Park combined will create nearly five million sq. ft. of total floor area, 9,000 new homes for tens of thousands of residents, and office and retail space for thousands of jobs.
Quantum Park's proposed floor space ratio (FSR) density is about 5.4 times the size of the brewery site, while Senakw's FSR is approximately 6.0.
There is also an opportunity for Concord Pacific to refine its design to take Senakw's form and public realm connectivity into account. As well, Senakw's taller tower forms could create a view shadow for Quantum Park, potentially enabling the developer to consider higher buildings in its proposal.
This past summer,Concord Pacifica squired one of the last remaining large development sites within the downtown Vancouver peninsula – the 6.6-acre old St. Paul's Hospital at 1081 Burrard Street. The hospital will relocate to a new facility in the False Creek Flats, and the mixed-use redevelopment of the old property will help fund the construction of the new healthcare campus. Concord Pacific acquired the hospital for about $1 billion.
In 2015, the developer acquired the six-acre Westin Bayshore Hotel in Coal Harbour for about $300 million. A mixed-use redevelopment of the hotel would entail luxury housing, a new upscale hotel, and a new and larger world-scale replacement facility for the Vancouver Maritime Museum.